Adam Baker is the best DAF technician in Europe
Tirsdag 12. april 2016 kl: 12:01



Af: Editorial


The 'DAF European Technician of the Year 2016' award has been won by Adam Baker (31), who works at the Chassis Cab Truck Centre dealership in Ipswich, UK. The European final, which consisted of various assignments and tests, took place at DAF Trucks in Eindhoven. The trophy was presented by Johan Drenth, After Sales Director of DAF Trucks N.V.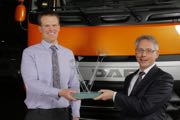 Johan Drenth, After Sales Director of DAF Trucks N.V. (right) presented the trophy to a very happy Adam Baker

During the European final, the sixteen finalists demonstrated their skills in several theoretical and practical cases in which they had to solve complex malfunctions on engine and vehicle systems.


- DAF organizes the 'European Technician of the Year' competition' to underline the importance of professional workshop technicians, says Johan Drenth.


- It is primarily a recognition of their profession. Modern trucks are high-tech vehicles and a broad and deep technical knowledge is required to be able to work on them. In addition, the technician is the business card in the workshop of the DAF dealer and he or she plays an important role when it comes to customer satisfaction. It's all about delivering service and quality down to the smallest detail.


DAF European Technician of the Year
DAF dealers throughout Europe may enter their technicians for the 'DAF European Technician of the Year' competition. The competition consists of two parts. In the first year, entrants compete for the national title in each country. The following year, the winners from each country compete against each other during the European final.




Adam Baker - who has worked for six years at the Chassis Cab Truck Centre dealership in Ipswich - was completely surprised by his victory.


- I could hardly believe it when I was chosen as the best DAF Technician in Britain last year, he says.

- And now I'm the best in Europe.




What in his view characterizes a good technician. His answer is short but clear:

- An in-depth, all-round product knowledge. And above all, a lot of dedication.












© Copyright 2019 transportnyhederne.dk. Denne artikel er beskyttet af lov om ophavsret og må ikke kopieres eller på anden måde videreudnyttes uden særlig aftale.

Print siden

- Panalpina and DSV agree to join forces
- Truck industry reacts to EU proposal for first-ever CO2 standards
- Remondis expands its activities in Denmark
- Bolloré Logistics acquires Global Solutions in Denmark
- Police hit against iraqi illegal immigration to the EU
- Maersk and IBM to form joint venture applying blockchain to improve global trade and digitise supply chains
- Commission approves Belgian tax measures for maritime transport
- Council reaches agreement
- Six trade unions get together to defend the rights of truck drivers
- Bulk terminals have got a new voice
- Rickmers-Linie takes over Nordana's Project Business
- World's first operational road transport hybrid system is ready

---
Skriv din kommentar:
Alle felter skal udfyldes!



Bemærk: For at undgå misbrug bliver din IP adresse logget!